Nadeem Omar Tarar
Book Review
Evolution of a war
A book scripting the evolution of Pakistan military's ambition to use civilian insurgents as an instrument of defence and foreign policy
Shadow War:
The Untold Story of Jihad in Kashmir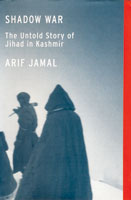 By Arif Jamal
Published by Melville House Publishing, 2009
Pages: 352 (hardcover)
Price: $26.95
The Untold Story of Jihad in Kashmir is a myth-busting and brutal exposé of Pakistan's secret war against India. It provides crucial information on the key facets of militancy including recruitment, organisational structure, ideological base, and its transnational character. The author Arif Jamal, a journalist scholar from Lahore and New York, has not only made use of his journalist acumen and scholarly skills but more importantly his personal courage and professional integrity.
Jamal prefaces the book by validating the sources of his information which, given the clandestine nature of the subject, are as important as the findings of the study. He has been successful in interviewing most of the key players in the jihad networks as well as access organisational and popular literature of jihad. His use of first hand accounts and selective use of secondary sources turns it into a highly original work.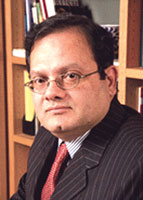 The author is especially well placed, to write such a book. Having begun his professional career in Pakistan in 1986 as a journalist with leading national and international media organisations, Arif Jamal has written hundreds of investigative and interpretive articles in English, focusing on Pakistan army and militant Islamic organisations. He holds a Masters in International Relations and has been a fellow at distinguished institutions including Harvard University and the University College of London, UK. He is presently associated with Center for International Cooperation, New York University , USA.
The book has broken the scholarly silence on military's involvement with militant Islamic groups and Pakistan's establishment's proxy war with India as it analyses the history of the jihad in Kashmir and the role of the Pakistan Army in shaping it since 1988. Scripting the evolution of the Pakistan's military ambition to use civilian insurgents/jihadis as an instrument of defense and foreign policy against India in Kashmir, the author provides a rather useful index of the names of the 'principal characters' from the warring regions, India, Pakistan and Kashmir, who would play out the script of jihad in Kashmir, a story which can compete with the best known political thrillers of our times.
In the first two chapters, the author outlines the formative phase of the Kashmir conflict and the evolution of the policy of using cross border Islamic militancy as an instrument of foreign policy, by focusing on Pakistan's first jihad under direct military command. It led to partition of Kashmir into Pakistani and Indian occupied Kashmirs within a year of independence in 1947. Chapter 3 discusses how CIA money, destined for the Afghan mujahideen in the 80s, was funneled to Kashmiri jihadis under Zia, creating a vital nexus of power and patronage of Islamic militants by the Pakistani military. Jamat-i-Islami (JI), provided ideological strength and human resource, in addition to coordinating jihadi network with various brands of Islamic militants across the world, fuelling a more than twenty-five year insurgency. Pakistani government and ISI support for militant groups who left Afghanistan to fight Indian rule in Kashmir has been the cause of much friction with India.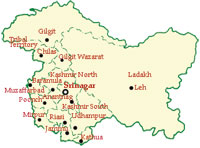 Chapter 4 and 5 demystify the notion of jihad as a selfless struggle for the glory of Islam by exposing the vicious competitions among various militant organisations fighting for share in the spoils of holy war. With the ascent of secular mission of JKLF, the Kashmiri nationalist militants in the 80s, JI fought back to take a lead role in the Kashmir Jihad with the help of ISI in post-Zia period. Chapter 5 builds on the factional struggle within the jihadi network and the hegemony of Hizbul Mujihadeen and its allied organisations on the reign of terror that they unleashed in Indian held Kashmir. They looted shops, bombed cinemas, targeted unveiled Muslim women and kidnapped, tortured and murdered Hindu businessmen and officials. In the process of conflict, Kashmiri society, which largely avoided communal riots at the time of partition, was convulsed into brutal violence, rising fundamentalism and communalism, and the flight of nearly the entire Hindu population from the Valley.
Chapter 6 outlines the military adventure of President Musharraf, the infamous Kargil war, as a logical corollary to Pakistan's policy of using jihadis as a strategic tool in the war against India. As Musharraf claimed it in his biography, it was waged to internationalise the Kashmir issue. On the contrary, it ended up isolating Pakistan internationally and for which Pakistan bore an enormous human cost. The financial cost of the war, met through Pakistani taxpayer's money, excluding the compensation rose to $700 million. Jamal analyses how the role of jihadis was overstated by the military and the sacrifices of Northern Light Infantry (NLI) drawn from Gilgit Baltistan/Norther Areas were ignored by the media.
Musharraf wore Kargil as a badge of honour despite repeated criticism of professional failures even from his very own military quarters. Claiming a degree of success in highlighting the Kashmir issue through Kargil, Musharraf went on to initiate peace process with India, epitomised by Agra Summit in 2001.
Jamal argues in chapter 7 that the failure of Agra Summit to lead to a peaceful resolution of conflicts between India and Pakistan rejoiced Islamic militants. Acquiring another lease of life, they attacked Red Fort and later that year on the Indian parliament, the very symbol of Indian sovereignty. In post 9/11 world, when Arab Islamic militancy under al-Qaeda came under an US-led international scrutiny, ISI tried to protect its jihadi networks in Pakistan and Kashmir by asking them to keep a low profile and camouflaging their organisational nomenclature. They were advised to drop names that smack of al-Qaeda — Laskar, Jaish, and Sepah — thereby allowing them to survive despite Musharraf's pronounced commitments to be a close American ally in international war on terror.
Extending the discussion of jihadi network further, the last chapter provides a substantiative account of ISI's official involvement in forming All Parties Hurriyat Conference (APHC) in 1993 in a bid to give a political face to jihad. Tracking its career over a decade Jamal, with profound penetration, analyses its impact on aggravating the Kashmir conflict, while counting its failure to live up to its original mandate.
A net result of shadow war with Kashmir has meant that Pakistani military has trained nearly half a million insurgents as a matter of defence policy, who now pose a grave threat to the peace and security of Pakistan. The nexus of power and patronage that was built up over Kashmir jihad fuels the militancy on Pakistani soil and abroad.
Coupled with threats of increasing "Talibinization" that mar the democratic future of Pakistan, the infrastructure of Jihad factory can not be effectively dismantled without finding solutions to Kashmir conflict. Despite numerous attempts in continuing formal peace talks between India and Pakistan in the last five years, militant attacks continue to hinder progress towards a sustainable solution on Kashmir. Talks are effectively put on hold since 2008 after India accused the ISI and Pakistani authorities of being complicit in the Mumbai Attacks.
Through a thick description of jihadi network, Arif Jamal underscores the global implications of a regional conflict. He argues that global jihad is an off-shoot of Kashmir conflict. Without peaceful resolution of Kashmir conflict, the international terror networks cannot be uprooted. In the light of Jamal's book, Barack Obama's singular focus on battling Taliban in Afghanistan and their sympathisers in Pakistan inherited from Bush administration can prove to be disastrous policy oversight for Pakistan as well as the international community.
Published: The News on Sunday, 13th September, 2009.